Silver Sponsor: MapAnything, A Salesforce Company
Location Intelligence solutions by MapAnything, a Salesforce company, leverage mapping, visualization, and optimization technologies to maximize productivity of sales and service resources. From Territory Design and Planning, to Field Execution and Visualization of results, businesses can optimize performance at every level of the sales process. 
By enabling customers to design optimal territories, create optimal schedules, map optimal routes, and view real-time or historic location of assets, businesses can maximize resources, drive productivity and revenue, and increase territory control and visibility, all while reducing expenses. 
Location-intelligent solutions enable field reps to increase stops by as much as 17% by leveraging route optimization, resulting in a 7% revenue gain for businesses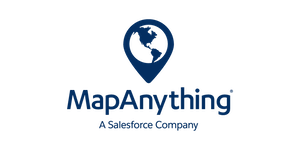 UP