Silver Sponsor: IOLITE Checklist
IOLITE Checklist is a Salesforce application that empowers users to create questions that drive action and accountability into your business. Use IOLITE Checklist to improve data integrity and streamline all your processes.
Spreadsheet Muncher is a tool that makes it possible to load data into any Salesforce object by simply emailing a spreadsheet attachment to Salesforce.
Learn more: http://www.iolitechecklist.com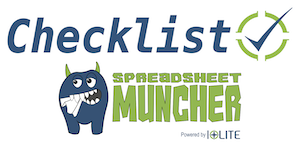 UP