Bronze Sponsor: Salesforce User Experience
Join the Salesforce User Research Program to help us create the best Salesforce product experiences for our users! You'll have the opportunity to help improve Salesforce products, both existing features and those still in development.
We'll reach out with research opportunities where we may ask you to test a prototype, complete a survey, or schedule a 1:1 interview to better understand your role and experience with one of our products. When you participate you'll receive an honorarium that you can redeem for fun money or donate to charity. You'll also have an opportunity to get a sneak peek on some new designs and features!
Be sure to stop by our table to meet members of our User Research Operations team and grab some Salesforce swag by signing up for our program! Or you can sign up now: https://sfdc.co/midwestdreamin19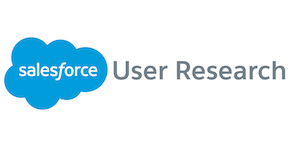 UP